8 Best Self-Defense Brass Knuckles for 2023
Self-Defense is becoming more vital than ever to learn. With the world and its inhabitants becoming increasingly unstable by the day, you never know what kind of danger may present itself at any moment.
For me, this is the ability to protect myself from danger and my friends, family, loved ones, and those who can't defend themselves. Self-defense comes in many forms, and there are many self-defense techniques out there that have their own strengths and weaknesses.
Here, however, we are going to focus on armed self-defense, which involves the use of physical weapons that aid in your self-preservation. Each form of self-defense has its place, but this form is especially beneficial to women, people of smaller stature, and those who may not have the necessary physical capabilities to ward off someone bigger and stronger.
One of the most effective self-defense weapons is the brass knuckle. This weapon is brutally simple and effective and has been used for hundreds, if not thousands, of years by many different cultures. Gladiators, Medieval knights, Japanese farmers, 12th century Indians, soldiers in the civil war, WW1 and WW2... all of them utilized this weapon. But what makes it so alluring to use?
Firstly is the size and weight, which makes it easily transportable and concealable. Next is that it increases the force of your punch considerably, making it a great equalizer when attacked by multiple assailants.
Here at edcweapon.com, we offer some of the best EDC knuckles you can buy on the market. They are made of the highest quality material and come in numerous forms to better you're your specific needs and predilections. The following is a list of 8 of the best brass knuckles on the market.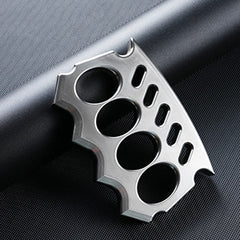 Tried and true, four-finger brass knuckles are probably the most common and recognizable variant. Four-finger brass knuckles go over each finger (besides the thumb), solidifying your entire fist.
This set is made of 304 stainless steel, a high-performance type of steel that provides excellent strength, longevity, and corrosion resistance. It's important to remember that all stainless steel is not the same, and many companies cheap out on inferior types. You can rest assured knowing that these brass knuckles are made from the highest quality stainless steel on the market.
At a 15mm Ultra-Thickness, it provides great power and protection. Made via One-Piece CNC processing, we do not cheap out on casting. All edges are treated smoothly, so you can be assured it will fit comfortably and snugly.
The size is 114mm x 77mm x 15mm, while the weight is 540g/pc. This weight is perfect and will not slow down or hamper your punches. It also comes with a giveaway storage pouch.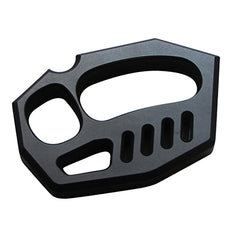 Another four-finger classic, this set comes in at a cheaper price but does not compromise on quality. It is made from full aero aluminum alloy. As opposed to standard aluminum, this type is frequently used in aerospace development (in sheet form for the wings and fuselage) due to its strength-to-weight ratio and corrosive resistance. It combines the best of both worlds, being both very light and very solid. It will barely feel like you are even holding anything!
All edges are treated very carefully and hand polished, ensuring a smooth surface and comfortable fit. A black oxide finish gives it an aesthetic appeal.
The Size is 107mm x 75mm x 15mm and has a Weight of 162g. Together with a 15 mm thickness, your fingers will be protected, and your punches will be enhanced. Cheap but strong and light, you can't go wrong.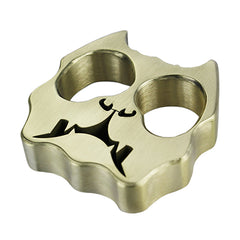 Besides four-finger brass knuckles, they are also two-finger brass knuckles. Commonly referred to as an EDC knife, this variant further reduces the weight, as well as ease of transport and concealment. EDC means every-day-carry and encompasses items you take with you everywhere. These knucks are a perfect addition to your EDC, as their small size and weight means you can carry them with ease
Most brass knuckles are not actually made of brass. This set, however, is made from 100% brass. With a brush finish, the surface is smooth and immaculate. Its 15mm thickness will ensure the fingers which it covers are well protected. All details are treated carefully using CNC processing.
The Diameter of the holes are 22mmx25mm. And the size is 60mm x 61mm x 15mm. With a stylish bulldog design, it is not only effective but visually appealing.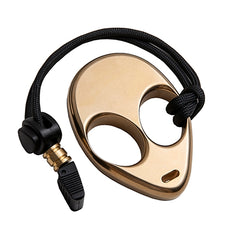 Here we have another two-finger EDC knock. Whereas the last one catered more towards men, this set caters to women. Perhaps the coolest feature is the unique, alien design. You could use this simply as a decoration, and people would be hard-pressed to realize that it's actually a set of brass knuckles. And since it also comes with a free hanging rope, you can indeed attach to wherever you want, turning your weapon into fashion. As such, its functions are twofold, for looks as well as use.
This set is also made from real brass, has a 12mm thickness, and a smooth surface via handmade polishing and precise edges via CNC processing.
Specs are as follows: Hole diameter:30mmx23mm. Size:78mm x 54mm x 12mm. Weight:266g.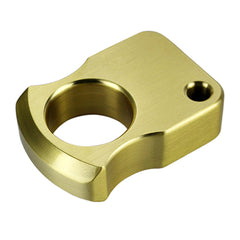 Now we are on to the one-finger EDC knucks. These are among the most portable and inconspicuous knucks available. Indeed, you can fit these nearly anywhere, and they do not stand out as a weapon.
This knuck, in particular, has a normal ring profile with no spikes or menacing protrusions. It looks as standard and non-threatening as can be and would easily pass security or police checks. Nonetheless, it's still very effective, with an 18 mm thickness that will protect your finger while dealing the necessary damage to defend yourself should the need arise? Made from real H-59 brass, polished and treated carefully, every detail and edge is smooth and superb.
Specs are: Hole diameter:23mm/ Size:56mm x 36mm x 18mm/ Weight:192g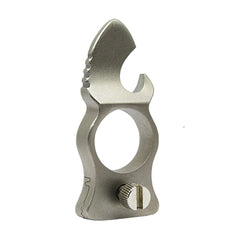 The best EDC tools are multi-tools. Having one item that has multiple functions means you can carry less but do more. With this knock, you will be getting three functions in one item, making it the perfect addition to your EDC. It not only functions as brass knuckles but also as a bottle opener and a slingshot. Talk about versatility!
Made of 304 Stainless Steel with a 9mm Thickness, it's extremely solid and will not hurt your fingers. The craftsmanship is top-tier, with all details being treated extremely carefully and precisely. It will fit most fingers and comes with an extra rubber band.
Specs are: Hole diameter: 22mm, approx. Size 12/ Weight: 68g.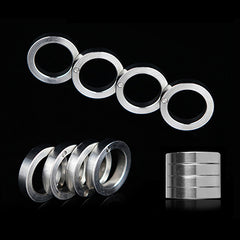 Yet another variation is folding brass knuckles. This unique design allows the user to easily and quickly fold up the knucks when not in use and fold them back just as easily and quickly when they need them. You also have the option of using it as a four, two, or one-finger brass knuckle, making it extremely adjustable and versatile.
This set is made from full 304 Stainless Steel Made. This steel not only looks remarkable but has anti-rusting properties and is very strong, durable, and solid. Due to its inconspicuous profile, it will easily pass any type of security check. CNC processed and hand polished, the surface is bright as the stars and perfectly smooth.
Super lightweight at only 110g, with an inner diameter of 23mm, approx. Size 13.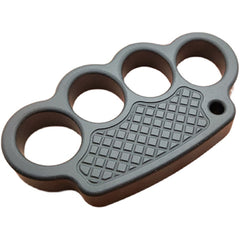 A majority of brass knuckles are made from brass or steel. This one, however, is made of plastic. This is a good alternative for people who might be a little averse to owning traditional brass knuckles because of their brutality and lethality. The plastic alternative still offers solidity, finger protection, and enhances the power of one's punches. But because it's a softer material, there's less of a chance of you killing someone when in a self-defense situation. In short, it lowers the lethality of brass knuckles while still having the ability to immobilize and stop an attacker.
Made of G10 and Micarta, it's light but solid. G10 is a strong, durable, and extremely water-resistant material. It's commonly used in underwater applications. Thickness is 15mm. And with a hole size of 32x25mm, it's great for people with larger fingers.
As with all our products, the craftsmanship is excellent. Expect the surface to be smooth and all edges treated carefully,
Concluding remarks
The legality of brass knuckles varies widely across the United States and abroad. Thus, it would certainly be wise to check your area's laws before purchasing. As with every weapon, it's important to train with it and gain firsthand knowledge of its operation before having to put it to use in a real situation. One punch from brass knuckles can certainly kill someone; these are no toys. Like any lethal weapon, they must be handled with respect and caution.